ATS offers an extensive line of ovens and accessories world renowned for quality and reliability.  Our outstanding features and experienced design engineers make our ovens among the most durable and efficient manufactured today.  ATS' ovens come in a variety of standard sizes and can easily be altered to meet your custom needs.  Our top-of-the-line equipment can be shipped to you with any accessories and mounting that will meet your requirements.
极速赛车一期计划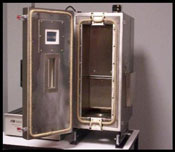 Series 3700 Ovens
CE marked models available
Stainless steel internal liners and external shells
Box (3710) and split-box (3720)
Temperature range: 0°C to 425°C (70°F to 800°F), Optional cooling: liquid N2 -155°C ( -250°F) and liquid CO2 -57°C ( -70°F)
Includes standard type K thermocouple
Double plenum feature
Standard power: 120 VAC, 1ph., 50/60Hz. or 240 VAC, 1ph., 50/60Hz.
Wide selection of chamber sizes, custom models available
Accessories
View port
Internal light
Slide assembly
Load train ports
Door switch
Additional options available, contact ATS for more information!
Dimensions
Internal (in.)
External (in.)
Watts
W
D
H
W
D
H
6
6
15
11½
16
20½
760
8
6
15
13½
18
20½
900
8
8
21
13½
18
26½
1350
10
8
21
15½
22
23½
1800
10
10
21
15½
22
26½
1800
10
10
24
15½
22
29½
1800
10
10
26
15½
22
31½
1800
12
12
20
17½
24
25½
2200
14
14
22
19½
26
27½
3300
14
14
24
19½
26
29½
3300
14
14
26
19½
26
31½
4400
16
16
24
21½
28
29½
4400
18
18
26
23½
30
31½
4950
20
20
28
25½
32
33½
6600